The Mega Foundation
Science News
June 17, 2006
Global Greenhouse Cooked Up A Hot Stew Of Life - SpaceDaily

New scientific results for the Late Cretaceous greenhouse indicate radically different climatic mechanisms operating about 75-90 million years ago compared to the ones that control today's climate.

The study aims to identify the main 'climate kitchen' in a world with about 5-9°C warmer global temperatures than today. they identify a previously unrecognized link between higher latitude climate dynamics and tropical African climate, the latter leading to exceptionally high burial of organic carbon in the deep tropical Atlantic. Marine geological record show that enhanced burial of organic carbon in the deep sea was confined to short time envelops of about 5 thousand years that reoccurred over millions of years at a regular pattern. Periods of enhanced precipitation and freshwater runoff then resulted in massive burial of organic carbon at the sea floor, suggesting that processes in the atmosphere drive changes in the ocean.
Small, Flexible Computer Chip Produces Big Results - SpaceDaily

About the size of a U.S. quarter, the field programmable gate array computer chip consists of 400 to 500 million transistors and two to three miles of wiring, but its flexible capacity significantly contributed to the Air Force's decision to employ the small component in its next generation of satellite systems.

"The field programmable gate array computer chip provided for NASA in 1996 featured an 8,000 logic gate capacity," said Gordon. "For our current project, the chip will consist of between one to two million logic gates," explained the senior electronics engineer. "The chip's capacity has doubled every year and, in addition, has gotten more complex." Last year, Gordon began working to secure a new field programmable gate array computer chip for employment in Air Force spacecraft in the next two to three years.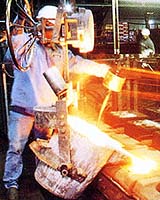 Chemists Forge A New Form Of Iron - SpaceDaily Left:

File photo: Iron production in China. In addition to its role in the manufacture of thousands of everyday objects, iron, in its various manifestations, is widely known and used for its reactive properties.

"We have synthesized something totally new that nobody has imagined could exist, and something which adds greatly to our understanding of fundamental iron chemistry," says John F. Berry. The new species of iron found by Berry and his colleagues is designated iron VI, which means the atom has just two valence electrons and is highly reactive as it seeks to regain iron's eight-electron stable configuration by grabbing electrons from atoms of other elements. The new form is so reactive it can only be studied at low temperatures, in this case minus 40 degrees F.

"Iron VI is a very rare oxidation state," explains UW-Madison chemistry professor Bassam Shakhashiri.