"With the economy sinking like a stone, how can anyone seriously claim that a new bull market is about to start?"
February 4, 2009
Robert N. Seitz
What I'm going to say here is only my own understanding of what's going on, rather than something that has the imprimatur of authority. I've had to try to piece this together for myself, which means that I could certainly be wrong. (I've had to fumble my way through the fog laid down in this investing world because in my 40 years as an investor, I've never found a basic investing tutorial that teaches what every investor ought to be taught.)
"If You Meet the Buddha on the Road, Kill Him"
One illuminating article concerning the fallibility of financial gurus is the one by Ben Stein, Financial Gurus: They're Only Human. Mr. Stein tells of a cable news interview featuring himself and Peter Schiff conducted in 2008. Mr. Stein:
"We began by discussing the recent price drop of Merrill Lynch after talk of major problems had been found -- or allegedly found -- on its books. I said I believed that Merrill was a solid firm and that its stock price revealed an unrealistically pessimistic view of the firm's future. At the day's price, I said, Merrill was a major bargain.
"Another guest on that show was financial figure, stock picker, and prognosticator Peter Schiff. He strongly disagreed, saying the financials were in terrible trouble."
Mr. Stein continues, "Again, I was wrong and Peter Schiff was right -- in a very big way."
Mr. Stein then points out that although Mr. Schiff was right about Merrill Lynch and "the financials", he was very wrong with his "Euro-Pacific entity". "The Euro-Pacific investors' portfolios were often down 50 percent or more in 2008."
The moral to this story is that even the best of financial advisors failed to predict what happened in 2008, especially during September, October, and the first third of November.
Mark Hulbert's best market timers also got it all wrong throughout last year (as I can personally attest). Mr. Hulbert apologized for flogging these fallacious forecasts, although, of course, he was, in my opinion, blameless, since, acting in good faith, he gave the best guidance he could.
I think it's interesting that last October snared even the billionaires in its net. (The markets were so volatile that if you sold, you ran the chance of being left in the lurch if the markets took off again.) This tells me that if there are seers out there who can consistently get it right, they aren't ballyhooing their insights to the rest of us in the thundering herd.
So Why Might Anyone Think That a New Bull Might Be About to Begin?
I think the markets look for the moment when the rates of decline of various economic indicators begin to flatten out or improve... the inflection point... and this seems to be happening.

Example #1: The Unemployment Rate
The January private job loss rate (522,000 jobs lost) is slightly better than was the December private job loss rate (659,000 jobs lost). January was the fifth month in a row with losses of at least 400,000 job cuts (Corporate job cuts at seven-year high) and (Private-sector jobs off 522,000). January's job loss was less than December's job loss.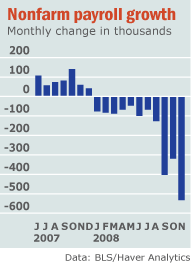 The results are similar for non-farm payroll. As the above chart shows, non-farm payroll fell off a cliff in September. (This chart has been copied from the Reuters 12/5/2008 article: U.S. job losses worst since 1974 as downturn deepens.) November's number was worse than September's, but since then, it has flattened out. The non-farm payroll data for December (2008) was 524,000, or about the same as it was for November, 2008. The January, 2009, non-farm payroll, due out Friday, February 6th,, is expected to be 525,000, or about the same as it was in November and December of 2008. Although massive layoffs are still occurring, the monthly layoff rate has leveled out, and the article Corporate job cuts at seven-year high notes that "January is typically the biggest month of the year for job-cut announcements."

In other words, it's no longer getting worse, and given that January is the worst month for job cuts, may begin improving now in February.

April 4, 2009, Update:
It pays to retain historical data! The above (two) paragraphs, written two months ago on February 4, 2009, were apparently based upon a December nonfarm payroll decline of 524,000 layoffs, followed by a predicted January nonfarm payroll decline of 524,000. Since then, the December decline has been revised upward to nearly 700,000, and the January decline has has soared to 741,000, after an April 4th upward adjustment of 86,000 (implying that the January decline was pegged at 655,000 until yesterday: 5.1 million jobs lost in this recession so far!) Now we're showing better numbers for February and March... but wait until the next few months' revisions!

For whatever reasons, there has been been a consistent Bureau-of-Labor-Statistics pattern of announcing comforting, monthly job destruction numbers each month, followed by downward revisions a month or two later. (I read an article yesterday by former Merrill Lynch Chief Economist for Merrill Lynch in which he argues that yesterday's unemployment report is actually worse than it appears: Labor Markets Even Worse Than the Headlines: Minyanville.) This, in turn, generates false hope in stock market investors that the economy is bottoming when, in fact, job destruction is still accelerating: Jobs Report An Economic Reality Check.

Example #2: New Car Sales
In January, 2009, new car sales were off 37% from January, 2008, but there, too, the numbers may have bottomed. (A principal sticking point with automotive purchases lies in the higher credit standards required for a car loan than were needed in 2008. The Federal Government may take steps to ease this credit crunch.) See the Wall Street Journal article GM, Ford, Toyota Post Sharp Declines.

April 4, 2009, Update:
New car sales in March were down 35% year-over-year. "March sales are typically stronger than the earlier winter months, but the lessening losses are a positive sign as automakers staunch their bleeding. General Motors saw sales starting to recover on several of its key products whose sales had collapsed in January."
These sales improvements have been achieved with "giveaway" incentives, including guarantees by Ford and GM that they will pick up the payments for those who are laid off.

Example #3: Pending Home Sales
Purchase contracts signed in December, 2008, rose 6.3% from November, 2008: Economic Report: Pending home sales rise 6.3% in December. This modest increase has been attributed to distress sales coupled with 30-year, fixed-interest mortgage rates of 5% or less.

April 4, 2009, Update:
Pending home sales hit a record low in January, dropping from the 6.3% gain cited above for December, 2008, to -7.7% for January, 2009. The charts below, taken from Paper Economy - A US Real Estate Bubble Blog: Pending Home Sales ... show a continuing year-over-year decline in new home sales through February, 2009, although the rate of decline appears to be slowing. (In other words, the curvature is still negative, although it may be approaching an inflection point.)



Example #4: The Institute for Supply Management Services Index
The Institute for Supply Management's non-manufacturing index has risen from a record low of 37.4% in November, 2008, to 40.1% in December to 42.9% in January, 2009: Services' shrinkage slows. The Institute for Supply Management's manufacturing index also rose in January (35.6%) from its December, 2008 (32.9%) reading. But the authors caution: "One month (or two months in the case of this indicator) is too short a period of time to read much into such a signal and it will need to be corroborated by readings on other indicators as well as in future months before we would be comfortable coming to the conclusion that the recession is winding down."

April 4, 2009, Update:
The ISM index has fallen back to 40.8% in March from its 42.9% value in January.

Example #5: The London Inter-Bank Offered Rate (LIBOR) and the Treasury-Eurodollar (TED) Spread
The London Inter-Bank Offered Rate is the interest rate that banks in the London inter-bank market charge on the money they lend to each other. It peaked so high last fall (at about 4½% for the three-month LIBOR)) that credit markets froze. Government intervention has now brought it down to about 1.235%. (But Libor's slide hits a wall as bank health deteriorates. The LIBOR has risen from its low of 1.09% on January 13th as a fresh wave of banking write-downs has occurred with banks such as Bank of America, State Street, Fifth Third, Citigroup and Royal Bank of Scotland.) The TED spread is the difference between the interest rate on U. S. Treasury bills (which are considered to be risk-free) and the three-month LIBOR. It represents the "risk premium" incurred by lending to some of London's largest and most prestigious banks. At the stock market bottom on October 10th, 2008, the TED spread hit an all-time high of 4.82%. The February 3, 2009, interest rate for three-month Treasury bills was 0.32%, leading to a TED spread of about 0.88%. (A minimum value for the TED spread is about 0.2%, where it stood in early 2007.) This isn't spectacularly good, but it's a lot better than it was last fall, and it indicates (I think) that the U. S. Federal Reserve has the credit markets functioning tolerably again.
U. S corporate bond spreads have fallen after hitting record highs in December.

Example #6: Positive Earnings Surprises and Forecasts
During the first year of a recession, this year's dismal earnings are compared to last year's stellar earnings. But once we start into the second year of a recession, unless the the second year's earnings are, percentage-wise, as far below last year's earnings as last year's earnings were below the previous year's earnings, the rate of earnings decline will slow. This year's earnings may still be lower than last year's earnings, but not by as large a percentage. But the moment at which the rate of decline slows constitutes an inflection point. We're now seeing some corporate earnings that are unexpectedly positive.

Why Haven't the Markets Soared on This News?
Given these signs of a spring thaw for the economy, how come the stock markets aren't soaring in anticipation of this happy happening?
Could one reason be that there's no guarantee that these signs of recovery aren't red herrings? In order to have a bear market rally, you've got to convince professional investors... and after this kind of market meltdown, there may not be as many amateur investors as there are in sunnier times... that it's safe to go back in the water, and that they should reinvest their capital before they miss out on some great bargain stocks. So far, judging by what's happened in the stock markets since the November 20th close at 752, or its next-day close at 800, this scenario has played to mixed reviews. (The S&P stands at 834 at the moment.) It's worth noting that in 2002, the stock market made a double bottom, with the second nadir coming three months after the first wash-out. Then five months after that came a retest of the lows. Throughout this period, investors like I who bought the story that the markets had bottomed with the first "capitulation low" were burned. I'm guessing that there's a lot of savvy investors who understand full well that this is a once-in-a-century "deflationary recession" that has the potential to become a "liquidity trap".

Why Haven't the Markets Soured on This News?
Evidently because the pros and the cons are fairly evenly balanced, and sophisticated investors are aware of this. If Paul Krugman and other leading economists don't assuredly know what's going to happen, why would we pin our convictions on financial gurus who are frequently in error but seldom in doubt? Paul Krugman's latest piece, published after the markets' close today, Permanent Link to About that deflation risk, concludes with, "But deflation is a huge risk — and getting out of a deflationary trap is very, very hard. We are truly flirting with disaster."

How Does the Current U. S. "Deflationary Recession" Compare to Japan's "Lost Decade"?

It's my understanding that the current U. S. situation differs from that in Japan in two ways

(1) In 1989, the Japanese had high levels of personal savings, while the U. S. is swimming in debt (with the highest per capita debt load in U. S. history as a percentage of household debt.

(2) In 1989, Japanese industry sported a very high debt load and stratospheric stock prices (with a price-to-earnings ratio on the Nikkei Dow greater than 60-to-1), while U. S. industry entered this recession, except for financial stocks, on a very sound financial footing.
When Will Our U. S. Market Indices Revisit Their October, 2007, Highs?
Of course, I don't know, but I don't expect the U. S. economy to return to its pre-recession growth rates, now that we know that its faux prosperity was fueled by consumers funding their spending sprees by going deeper and deeper in debt. I think that China and other emerging markets are where savings-driven future growth will take place, and for guidance on where and when to invest, I'm relying on Cabot's China and Emerging Markets newsletter. Right now, they're 80% in cash. When that changes, I'll let you know, although to get their specific stock picks, you'd have to subscribe to their newsletter ($97 for one year; $177 for two years). (I'm not suggesting that you do so right now, especially at the volatile and shaky state the economy is in today. Hopefully, there will soon come a time when it will be safer to invest money than it is right now.)
I have just checked the alternative energy stocks I follow. As of today, they're still bobbing around in the water. Long-term, I think they represent promising investment vehicles. The ones I feel are the safest bets are Vestas Wind Systems (VWSYF), because Vestas is the world's leading purveyor of wind turbines, and the Powershares Wilderhill Clean Energy Technology Fund (PBW) because it's an alternate energy index fund that should be more or less independent of which of the leading alternate energy companies crowd out their competition over time.



One word of caution: some of the best alternate energy companies are privately funded, and are flying under the radar. They could emerge from the shadows and crowd out the current front-runners, particularly in the solar power area. Also, there are other companies selling other alternative-power technologies that might be more profitable than power generation. Power distribution and control might conceivably offer more profitability than power generation. Also, areas like photovoltaic system installation, or the production of attractive photovoltaic shingles might overtake conventional photovoltaic panels when it gets down to actual rooftops. Or solar power may become a utility company function, with solar farms in the desert Southwest, or on southern scrub land. (Here is where a green-power index fund might do better than individual alternative-power corporate stocks.)